Vol 66, No 5 (2021)

REVIEWS
Abstract
The formation of the liver cirrhosis (LC) is an unfavorable event of the natural history of chronic liver diseases being accompanied by complications that often cause a fatal outcome. The study of the effectiveness of drugs that affect various etiopathogenetic mechanisms of this condition is an urgent problem of modern hepatology.
The aim of the review was to show the role of antiviral therapy (AVT) in the management of patients with LC associated with chronic HBV (hepatitis B virus) and HCV (hepatitis C virus) infection.
PubMed database, Google Scholar search engine, Cochrane Systematic Reviews, eLIBRARY.RU electronic scientific library, as well as the reference lists of articles were used to search for scientific articles. The relevant objectives of the review of the publications were identified for the period since 2000 up to 2021 by the search queries as following: «liver cirrhosis», «liver fibrosis», «chronic HBV infection», «chronic HCV infection», «portal hypertension», «treatment». The inclusion criteria were restricted to the management of patients with LC associated with chronic HBV and HCV infection.
Current guidelines recommend indefinite treatment of patients with HBV-associated LC with nucleos(t)ide analogues regardless of serum HBV DNA levels, while the modern concept of using direct-acting antiviral drug combinations has become the standard treatment for HCV-associated cirrhosis. Studies have shown the ability of AVT to inhibit and reverse fibrotic processes in LC associated with chronic HBV and HCV infection. It has also been reported that HBV/HCV eradication prior to orthotopic liver transplantation improves long-term overall survival.
This, in turn, can reduce the severity of portal hypertension and decrease the risk of associated complications, as well as normalize liver function. Thus, ensuring the availability of drugs for those in need of AVT will not only help prevent the development of LC, but also improve the quality of life and increase its expectancy of patients suffering from this disease.
Problems of Virology. 2021;66(5):331-339

331-339


Abstract
Hepatitis D (delta, δ) virus (HDV) was discovered more than 40 years ago, but the understanding of its origin and evolution is poor. This is mainly due to the lack, until recently, of data on the existence of any viruses similar to HDV. The discovery in recent years of sequences of new delta-like agents in a wide range of vertebrate (Vertebrata) and invertebrate (Invertebrata) species has facilitated a revision of views on the origin of HDV and contributed to understanding the place of this unique virus among other animals' viral agents. The purpose of this review is to analyze the latest published data on new delta-like agents and their biological characteristics.
Problems of Virology. 2021;66(5):340-345

340-345


ORIGINAL RESEARCH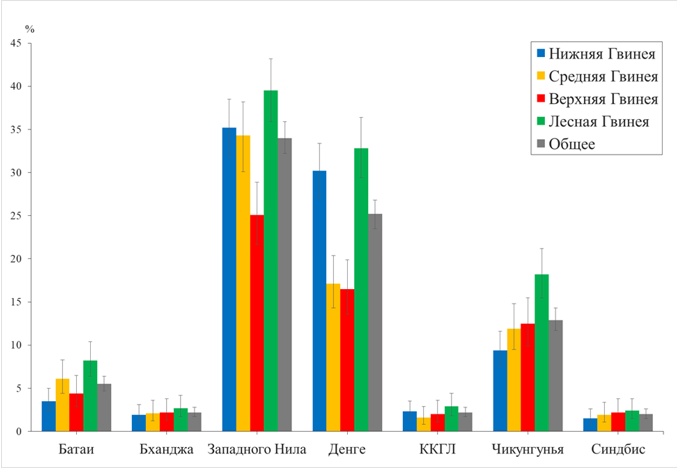 Abstract
Introduction. Acute febrile diseases kill more than 250,000 people annually in West Africa. Malaria and typhoid fever traditionally occupy most of the total structure of registered fevers. However, these data do not fully reflect the true overall disease patterns in the West African region. This is due to the fact that diagnosis is mainly based on the clinical signs of the infectious process, suggesting that a certain number of diseases may be caused by arboviruses. The detection of specific antibodies (ABs) to infectious pathogens in the blood sera of residents of a particular area is a reliable indicator of the circulation of these pathogens in a particular territory.
The aim of this study was to determine the prevalence of antibodies to a number of arboviruses: Dengue (DENV), West Nile (WNV) (family Flaviviridae), Crimean-Congo hemorrhagic fever (orthonairo)virus (CCHFV), Batai (Batai virus), Bhanja (BHAV) (order Bunyavirales), Chikungunya (CHIKV), and Sindbis (SINV) (family Togaviridae) in the population of the Republic of Guinea.
Material and methods. In total, a panel of 2,620 blood serum samples from people living in all landscape and geographical areas of Guinea was collected for the study. Detection of IgG antibodies was performed using an enzyme-linked immunoassay (ELISA).
Results. In total, ABs to Batai virus were detected in 144 samples (5.5%), BHAV in 58 (2.2%), WNV in 892 (34.0 %), DENV in 659 (25.2 %), CCHFV in 58 (2.2 %), CHIKV in 339 (12.9 %), and SINV in 52 samples (2.0 %).
Discussion. The obtained results indicate serological evidence of the spectrum of arboviruses in the population of all landscape and geographical zones of the Republic of Guinea, confirming their active circulation in this territory.
Conclusion. Given the high epidemiological significance of arbovirus infectious diseases, it is an urgent task to continue studying its share in the structure of febrile diseases in the territory of the Republic of Guinea.
Problems of Virology. 2021;66(5):346-353

346-353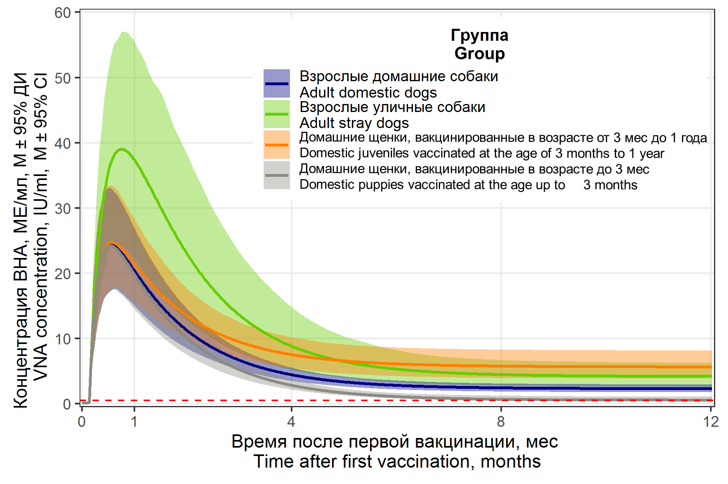 Abstract
Introduction. Most cases of human rabies are caused by dog (Canis lupus familiaris) bites. Therefore, the implementation of vaccination programs of these animals is one of the urgent tasks.
The work aims to identify the factors influencing the production of antirabies virus-neutralizing antibodies (VNAs) in vaccinated dogs, and to formulate recommendations for adjusting the vaccination schedule using mathematical modeling (MM).
Material and methods. We used a fixed-effects modeling procedure to estimate the two-compartment model parameters using log-transformed data (obtained by RFFIT, rapid fluorescent focus inhibition test; and FAVN, fluorescent antibody virus-neutralization test) on the VNAs levels in the serum of vaccinated dogs.
Results. More vigorous immune response after a two-dose primary vaccination is formed in juvenile dogs at the age of 3 months to 1 year compared to the adult dogs. Following the primary vaccination and revaccination 1 year after, VNAs were produced more intensively in adult stray dogs than in domestic dogs.
Discussion. The short-term immune response observed in dogs aged up to 3 months is due to the presence of colostral antibodies and the active growth of the organism at this age. The results of our study confirm that most of the dogs have a level of antirabies VNAs of ≥0.5 IU/ml up to two or more years following immunization. However, only regular annual revaccination ensures the protective VNAs level in animals that responded poorly to vaccination due to various factors.
Conclusion. The following antirabies vaccination schedule is recommended: primary vaccination of the dog at the age of 3 months up to 1 year with 1–2 month intervals, then revaccination annually. This work also demonstrates the possibility of a wider application of MM methods for solving problems of vaccine prevention.
Problems of Virology. 2021;66(5):354-367

354-367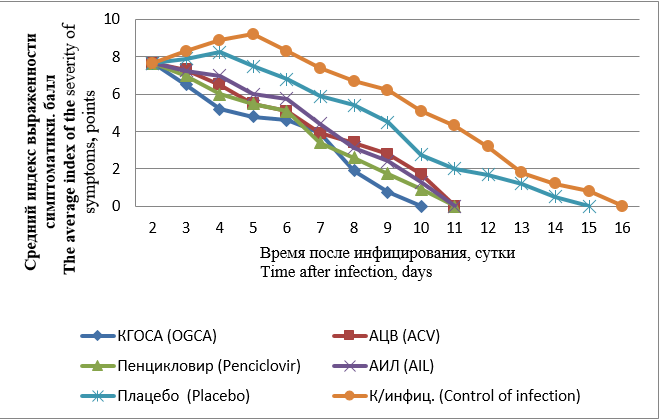 Abstract
Introduction. A significant increase in the incidence of various forms of herpesvirus infection (HVI) determines the need to search for new approaches to the modification of one of the basic antiviral drugs aciclovir (ACV) and its dosage forms to improve their biopharmaceutical characteristics and increase the effectiveness of therapy. In this aspect, an innovative organic germanium complex with aciclovir (OGCA) is promising.
The aim of the study was to assess the antiviral activity of OGCA against the herpes simplex virus (HSV) (human herpes virus, HHV) on the HVI models both in vitro and in vivo.
Material and methods. We studied the activity of OGCA in a therapeutic regimen against HSV-1 (HHV-1) (Kl strain), HSV-2 (HHV-2) (VN strain) using virological and statistical research methods in the in vitro model of HVI on Vero cell culture and the model of genital herpes (GH) caused by HHV-2 (VN strain) in male guinea pigs (Canis porcellus).
Results and discussion. It was found OGCA inhibits the replication of HHV-1 and HHV-2 in Vero cells, and has anti-HHV activity in the GH model in male guinea pigs, leading to a decrease in the severity and duration of the disease, the intensity and duration of viral shedding. The most pronounced activity was detected when preparation was applied topically 5 times a day for 5 days at the early stages of infection (3% gel). The delayed use of OGCA (48 hours after infection) also had statistically significant efficacy compared to commercial reference drugs containing aciclovir or its pro-drugs: aciclovir (5% cream), AIL (acyclovir+interferon alfa-2b+lidocaine, 3% ointment), penciclovir (1% cream). OGCA significantly reduced the number of days of the pathogen shedding, as well as its infectivity, compared to animals in the control group and ones receiving placebo. The activity of OGCA, apparently, is due to its improved biopharmaceutical characteristics compared to aciclovir, as well as the presence of a number of biological activities of its constituent components.
Conclusion. The results of the study allow us to consider OGCA as the basis for the development of antiviral agents for the treatment of HVI.
Problems of Virology. 2021;66(5):368-382

368-382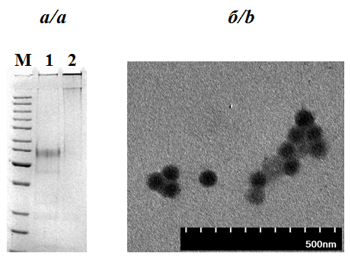 Abstract
Introduction. Enterovirus (nonpolio) infection is widespread all over the world, registered as sporadic cases and large-scale outbreaks and can cause severe lesions such as serous meningitis. Epidemiological studies have shown that enterovirus (Picornaviridae; Enterovirus) variant Echovirus 30 (E30) is the most frequently detected variant in patients with enterovirus meningitis in the Russian Federation. However, no vaccines to prevent the disease caused by this pathogen have been developed so far. One of the promising modern trends in terms of creating vaccine preparations is the use of virus-like particles (VLPs), including chimeric ones containing the biological structures of viruses belonging to different species.
The aim of this work was to obtain norovirus (Caliciviridae; Norovirus) VLPs displaying enterovirus Echovirus E30 full-length VP1 on the surface.
Material and methods. The nucleotide sequences of VP1 protein of norovirus genotype GII.4 and VP1 E30 of genotype h circulating in Russia were used. The SN-VP1E30 protein was constructed, in which the shell (S) and the hinge regions of the norovirus VP1 are fused into one molecule with the full-length VP1 of the E30 virus. The protein was expressed in E. coli, purified using affinity chromatography, and characterized by polyacrylamide gel electrophoresis (PAGE) and immunoblotting. VLPs were visualized by electron microscopy.
Results. The S N-VP1E30 protein expressed in E. coli as insoluble form, so the conditions for SN-VP1E30 solublisation were defined. Sucrose has been shown to significantly increase the efficiency of renaturation. Electrophoretic mobility comparison of denatured and non-denatured SN-VP1E30 demonstrated that most monomers form high molecular weight compounds. Electron microscopy showed that renatured SN-VP1E30 spontaneously forms empty virus-like particles about 50 nm in diameter.
Conclusion. Chimeric protein SN-VP1E30 self-assemble into VLPs displaying the VP1 protein of E30 variant that is highly prevalent in Russia. Further immunological research is necessary to characterize VLPs potential for development of the vaccine for enteroviral meningitis prevention.
Problems of Virology. 2021;66(5):383-389

383-389


ANNIVERSARY DATES

390-392