Experimental research of the hantavirus survival in complexes with environmental substrates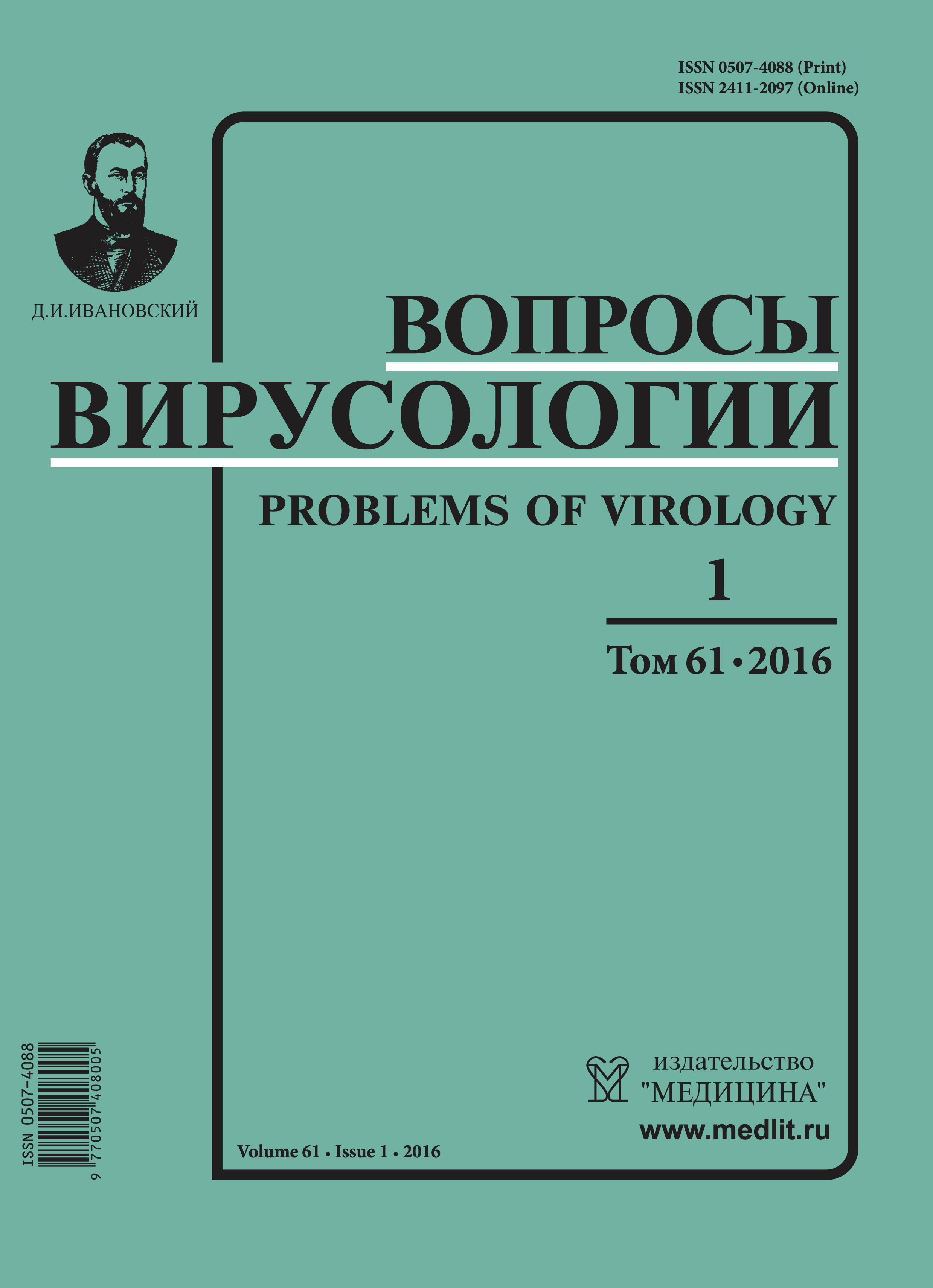 Cite item
Abstract
Survival of viruses in the environment is a very important problem in epidemiology, especially for infections with indirect transmission. This work describes the results of the experimental study of adsorption and survival of the hantavirus on different environmental substrates (natural organic and inorganic sorbents). Bovine serum albumin (BSA) solution (5-10%) was effective in the hantavirus elution and phosphate-buffer saline (PBS) pH 7,2 was optimal for elution of specific RNA. Potential survival of the infectious hantavirus on environmental substrates was observed within up to 14 days at +4°С.
About the authors
G.P. Somov Research Institute of Epidemiology and Microbiology
Author for correspondence.
Email: olga_iun@inbox.ru

Olga Iunikhina, MD, PhD
690087, Vladivostok
Russian Federation
G.P. Somov Research Institute of Epidemiology and Microbiology
Email: fake@neicon.ru
690087, Vladivostok Russian Federation
References
Schmaljohn C., Hjelle B. Hantaviruses: a global disease problem. Emerg. Infect. Dis. 1997; 3 (2): 95–104.
Hardestam J., Simon M., Hedlund K.O., Vaheri A., Klingstrom J., Lundkvist A. Ex vivo stability of the rodent-borne Hantaan virus in comparison to that of arthropod-borne members of the Bunyaviridae family. Appl. Environ. Microbiol. 2007; 73 (8): 2547–51.
Kallio E.R., Klingstrom J., Gustafsson E., Manni T., Vaheri A., Henttonen H. et al. Prolonged survival of Puumala hantavirus outside the host: evidence for indirect transmission via the environment. J. Gen.Virol. 2006; 87 (8): 2127–34.
Иунихина О.В., Компанец Г.Г., Слонова Р.А. Способность хантавируса адсорбироваться на почвообразующих минеральных частицах. Дальневосточный журнал инфекционной патологии. 2008; 13: 134–8.
Lee P.W., Gibbs C.J., Gajdusek D.C., Yanagihara R.T. Serotypic classification of hantavirus by indirect immunofluorescent antibody and plaque reduction neutralization tests. J. Clin. Microbiol. 1985; 22 (6): 940–4.
Sinclair R.G., Jones E.L., Gerba C.P. Viruses in recreational waterborne disease outbreaks: a review. J. Appl. Microbiol. 2009; 107 (6): 1769–80.
Sobsey M.D., Meschke J.S. Virus survival in the environment with special attention to survival in sewage droplets and other environmental media of fecal or respiratory origin. World Health Organization. 2003. Available at: http://www.unc.edu/courses/2008spring/envr/421/001/WHO_VirusSurvivalReport_21Aug2003.pdf. (Accessed 29 May 2014).
Bernshtein A.D., Apekina N.S., Mikhailova T.V., Myasnikov Y.A., Khlyap L.A., Korotkov Y.S. et al. Dynamics of Puumala hantavirus infection in naturally infected bank voles (Clethrionomys glareolus). Arch. Virol. 1999; 144 (12): 2415–28.
Calisher C.H., Peters C.J., Douglass R.J., Kuenzi, A.J. Hantaviral infections of rodents: Possible scenarios. Arch. Virol. 2009; 154 (8): 1195–7.
Yanagihara R., Amyx H.L., Gajdusek D.C. Experimental infection with Puumala virus, the etiologic agent of nephropathia epidemica, in bank voles (Clethrionomys glareolus). J. Virol. 1985; 55 (1): 34–8.
Monpoeho S., Maul A., Mignotte-Cadiergues B., Schwartzbrod L., Billaudel S., Ferre V. Best viral elution method available for quantification of enteroviruses in sludge by both cell culture and reverse transcription-PCR. Appl. Environ. Microbiol. 2001; 67 (6): 2484–8.
Quignon F., Thomas F., Gantzer C., Huyard A., Schwartzbrod L. Virus adsorption in a complex system: an experimentally designed study. Wat. Res. 1998; 32 (4): 1222–30.