Synthetic peptide vaccines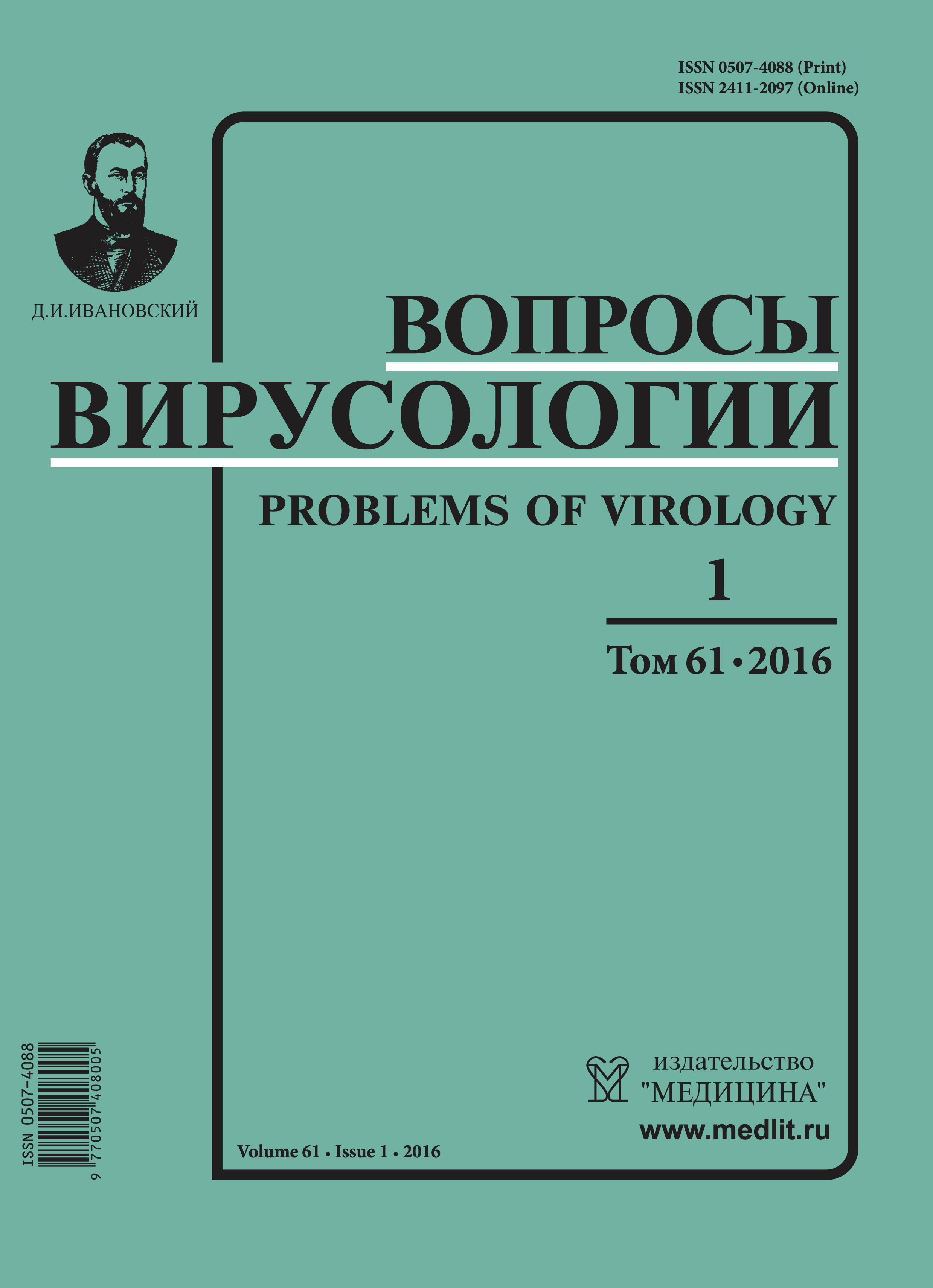 Authors: Sergeyev O.V.1, Barinsky I.F.1
Affiliations:

D.I. Ivanovsky Institute of Virology "Federal Research Centre for Epidemiology and Microbiology named after the honorary academician N.F. Gamaleya"

Issue: Vol 61, No 1 (2016)
Pages: 5-8
Section: REVIEWS
ID: 296
Cite item
Abstract
An update on the development and trials of synthetic peptide vaccines is reviewed. The review considers the successful examples of specific protection as a result of immunization with synthetic peptides using various protocols. The importance of conformation for the immunogenicity of the peptide is pointed out. An alternative strategy of the protection of the organism against the infection using synthetic peptides is suggested.
Keywords
About the authors
D.I. Ivanovsky Institute of Virology "Federal Research Centre for Epidemiology and Microbiology named after the honorary academician N.F. Gamaleya"
Author for correspondence.
Email: osergeyev123@gmail.com

Oleg Sergeev, Candidate of biological Sciences
123098, Moscow
Russian Federation
D.I. Ivanovsky Institute of Virology "Federal Research Centre for Epidemiology and Microbiology named after the honorary academician N.F. Gamaleya"
Email: fake@neicon.ru
123098, Moscow Russian Federation
References
Зверев В.В., Семенов Б.Ф., Хаитов Р.М. Вакцины и вакцинация: национальное руководство. M.: ГЭОТАР-Медиа; 2011.
Медуницын Н.В. Вакцинология. М.: Триада-Х; 1999.
Петров Р.В., Хаитов Р.M. Иммуногены и вакцины нового поколения. Moсква: ГЭОТАР-Медиа; 2011.
Roitt I., Brostoff J., Male D. Immunology. 5 th ed. Mosby; 2000.
Arnon R., Sela M. Antibodies to a unique region in lysozyme provoked by a synthetic antigen conjugate. Proc. Natl. Acad. Sci. USA. 1969; 62(1): 163-71.
Langbeheim H., Arnon R., Sela M. Antiviral effect on MS-2 coliphage obtained with a synthetic antigen. Proc. Natl. Acad. Sci. USA. 1976; 73: 4636-40.
Lerner R.A. Tapping the immunological repertoire to produce antibodies of predetermined specificity. Nature. 1982; 299: 593-6.
Bittle J.L., Houghten R.A., Alexander H., Shinnick T.M., Sutcliffe J.G., Lerner R.A. et al. Protection against foot-and-mouth disease immunization with a chemically synthesized peptide predicted from the viral nucleotide sequence. Nature. 1982; 298(5869): 30-3.
Brown F. Use of peptides for immunization against foot-and-mouth disease. Vaccine. 1988; 6: 180-2.
Doel T.R., Gale C., Do Amaral C.M., Mulcahy G., Dimarchi R. Heterotypic protection induced by synthetic peptides corresponding to three serotypes of foot-and-mouth disease vims. J. Virol. 1990; 64(5): 2260-4.
Steward M.W., Stanley C.M., Dimarchi R. High-affinity antibody induced by immunization with a synthetic peptide is associated with protection of cattle against foot-and-mouth disease. Immunology. 1991; 72: 99-103.
Taboga O., Tami C., Carillo E., Núñez J.I., Rodríguez A., Saíz J.C. et al. A large-scale evaluation of peptide vaccines against foot-andmouth disease: lack of solid protection in cattle and isolation of escape. J. Virol. 1997; 71(4): 2606-14.
Wang C.Y., Chang T.Y., Walfield A.M., Ye J., Shen M., Chen S.P. et al. Effective synthetic peptide vaccine for foot-and-mouth disease in swine. Vaccine. 2002; 20(19-20): 2603-10.
Rodriguez L.L., Barrera J., Kramer E., Lubroth J., Brown F., Golde W.T. A synthetic peptide containing the consensus sequence of the G-H loop region of foot-and-mouth disease virus type-O VP1 and a promiscuous T-helper epitope induces peptide-specific antibodies but fails to protect cattle against viral challenge. Vaccine. 2003; 21(25-26): 3751-6.
Li G., Chen W., Yan W. Comparison of immune responses against foot-and-mouth disease virus induced by fusion proteins using the swine IgG heavy chain constant region or beta-galactosidase as a carrier of immunogenic epitopes. Virology. 2004; 328: 274-81.
Green N., Alexander H., Olson A., Alexander S., Shinnick T.M., Sutcliffe J.G. et al. Immunogenic structure of the influenza haemagglutinin. Cell. 1982; 28(3): 477-87.
Muller S., Plaue S., Samama J.P., Valette M., Briand J.P., Van Regenmortel M.H. Antigenic property and protective capacity of a cyclic peptide corresponding to site A of influenza vims haemagglutinin. Vaccine. 1990; 8(4): 308-14.
Friede M., Muller S., Briand J.P., Plaué S., Fernandes I., Frisch B. et al. Selective induction of protection against influenza virus infection in mice by a lipid-peptide conjugate delivered in liposomes. Vaccine. 1994; 12(9): 791-7.
Ninomiya A., Ogasawara K., Kajino K., Takada A., Kida H. Intranasal administration of a synthetic peptide vaccine encapsulated in liposome together with an anti-CD40 antibody induces protective immunity against influenza A virus in mice. Vaccine. 2002; 20(25-26): 3123-9.
Ma J.H., Yang F.R., Yu H., Zhou Y.J., Li G.X., Huang M. et al. An M2e-based synthetic peptide vaccine for influenza A virus confers heterosubtypic protection from lethal virus challenge. Virol. J. 2013; 10: 227.
Geerligs H.J., Weijer W.J., Welling G.W., Welling-Wester S. The influence of different adjuvants on the immune response to a synthetic peptide comprising amino acid residues 9-12 of herpes simplex virus type 1 glycoprotein D. J. Immunol. Methods. 1989; 124(1): 95-102.
Brynestad K., Babbit B., Huang L., Rouse B.T. Influence of peptide acylation, liposome incorporation, and synthetic immunomodulators on the immunogenicity of a 1-23 peptide of glycoprotein D of herpes simplex virus: implications for subunit vaccines. J. Virol. 1990; 64(2): 680-5.
Langeveld J.P., Casal J.I., Osterhaus A.D., Cortés E., de Swart R., Vela C. et al. First peptide vaccine providing protection against viral infection in the target animal: studies of canine parvovirus in dogs. J. Virol. 1994; 68(7): 4506-13.
Takano T., Tomizawa K., Morioka H., Doki T., Hohdatsu T. Evaluation of protective efficacy of the synthetic peptide vaccine containing the T-helper 1 epitope with CpG oligodeoxynucleotide against feline infectious peritonitis virus infection in cats. Antivir. Ther. 2014; 19(7): 645-50.
Talbot P.J., Dionne J., Lacroix M. Vaccination against lethal coronavirus-induced encephalitis with a synthetic decapeptide homologous to a domain in the predicted peplomer stalk. J. Virol. 1988; 62: 3032-6.
Dietzschold В., Gore M., Marchadier D., Niu H.S., Bunschoten H.M., Otvos L.Jr. et al. Structural and immunological characterization of linear virus-neutralizing epitope of the rabies virus glycoprotein and its possible use in a synthetic vaccine. J. Virol. 1990; 64(8): 3804-9.
Kao D.J., Hodges R.S. Advantages of a synthetic peptide immunogen over a protein immunogen in the development of an anti-pilus vaccine for Pseudomonas aeruginosa. Chem. Biol. Drug Des. 2009; 74(1): 33-42.
Serna C., Lara J.A., Rodrigues S.P., Marques A.F., Almeida I.C., Maldonado R.A. A synthetic peptide from Trypanosoma cruzi mucinlike associated surface protein as candidate for a vaccine against Chagas disease. Vaccine. 2014; 32(28): 3525-32.
Sirima S.B., Tiono A.B., Ouedraogo A., Diarra A., Ouédraogo A.L., Yaro J.B. et al. Safety and immunogenicity of the malaria vaccine candidate MSP3 long synthetic peptide in 12-24 months-old Burkinabe children. PLoS One. 2009; 4(10): e7549.
Nardin E. The past decade in malaria synthetic peptide vaccine clinical trials. Hum. Vaccin. 2010; 6(1): 27-38.
Hansen M.R., Villar H.O., Feyfant E. Development of an informatics platform for therapeutic protein and peptide analytics. J. Chem. Inf. Model. 2013; 53(10):2774-9.
Волгарева Г.М., Сафронова Л.Д. Контроль генетических последствий вакцинаций: электронно-микроскопический анализ синаптонемных комплексов мыши. Генетика. 1991; 27: 1410-22.
Genghini R., Tiranti I., Segade G., Amado J., Wittouck P., Mian L. In vivo effect on pig 9 chromosomes of high dosage vaccine against classic swine fever. Mutat.Res. 1998; 422(2): 357–65.
Genghini R., Tiranti I., Bressan E., Zamorano-Ponce E., Fernández J., Dulout F. Determination of genotoxicity of classical swine fever vaccine in vitro by ytogenetic and comet tests. Mutagenesis. 2006; 21(3): 213–7.
Sutter R.W. Poliomyelitis vaccines. In: Plotkin S., Orenstein W., Offit P., eds. Vaccines. 5 th ed. Saunders Elsevier; 2008: 62-101.
Sergeev V.A., Sergeyev O.V. Hypervaccination as prompt nonimmune protection. Procedia in Vaccinology. 2014; 8: 77 – 88.